Insurance Exam Study Products
Insurance Exam Audio Study Guide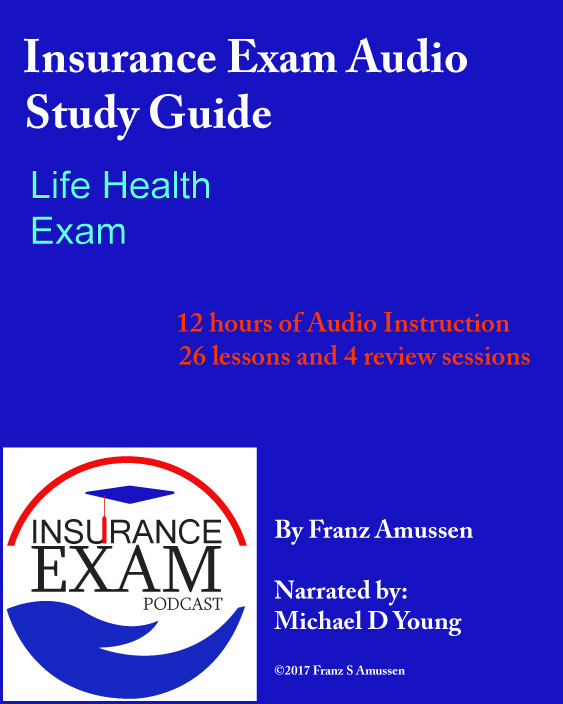 Insurance Exam Audio Study Guide
Life Health Exam
Total lesson listening time is 12 hours
This course is designed to help insurance professionals prepare to take the Life Health Insurance Exam through Listening to audio lessons. The advantages of audio lessons are obvious it allows the busy person to study while it would otherwise be impossible to be reading a book or sitting at a desk. Suddenly you can study while commuting, exercising, taking long walks etc.
http://www.insuranceexampodcast.com
By Franz Amussen
Narrated by Michael D Young
©Franz S Amussen 2017 All Rights Reserved
Insurance Exam Audio Study Guide
Life Health Exam
Life Health Study Guide Table of Contents
Lesson 1_Introduction to the Course
Lesson 2_Introduction to Insurance Part I
Lesson 3_Introduction to Insurance Part II
Lesson 4_Insurance Regulation
Lesson 5_Insurance Law
Lesson 6_Underwriting Basics
Lesson 7_Group Insurance
Lesson 8_Policy Issuance and Delivery
Lesson 9_Types of Life Insurance
Lesson 10_Insurance Provisions
Lesson 11_Riders and Waivers
Lesson 11_Riders and Waivers
Lesson 13_Group Life Insurance
Lesson 14_Retirement Plans
Lesson 15_Introduction to Health Insurance
Lesson 16_Introduction to Health Insurance Part II
Lesson 17_Health Insurance Policy Underwriting and Delivery
Lesson 18_Health Insurance Policy Provisions Part II
Lesson 19_Disability Income Insurance
Lesson 20- Disability Income Insurance Part II
Lesson 21_Medical Expense Insurance
Lesson 22 Major Medical Insurance
Lesson 23_Group Health Insurance
Lesson 24_Social Health Insurance
Lesson 25- Social Health Insurance Part II
Lesson 26- Long Term Care
Review Lesson 1
Review Lesson 2
Review Lesson 3
Review Lesson 4
Total Length 12 hours 6 seconds
Each of the fifty states requires life and health insurance professionals to attain licensing by passing the Life and Health Insurance examination.
There are eighteen content areas covered by the exam: insurance regulation (5%); general insurance (5%); life insurance basics (7%); life insurance policies (7%); life insurance policy provisions, options, and riders (8%); annuities (6%); federal tax considerations for life insurance and annuities (5%); qualified plans (4%); health insurance basics (5%); individual health insurance policy general provisions (4%); disability income and related insurance (3%); medical plans (8%); health maintenance organizations (3%); group health insurance (7%); dental insurance (2%); insurance for senior citizens and special needs individuals (8%); federal tax considerations for health insurance (3%); and additional considerations for life and health insurance counselors (10%). The questions on the Life and Health Insurance exam will be in three different multiple-choice formats: direct question, incomplete sentence, and "all of the following except." Each question will have four possible answers from which the candidate must choose.
The examination has 150 questions, and must be completed in two and a half hours. Examinations are completed on a personal computer, and the results are immediately given to the candidate upon completion of the test. The score report will include the percentage of questions answered correctly, the overall score, and the decision as to whether the candidate has passed or failed the exam (in order to pass, candidates must answer 70% of the questions correctly).