Podcast: Play in new window
Subscribe: Apple Podcasts | Android | Email | Google Play | RSS | More
Series 7 Exam Lesson Margins Pt 1 2017
In the introduction I talk about client relationships and in particular I go over a relationship I have with the client who primarily uses me as a sounding board for his own investment ideas in my recent report of a company that he asked me to look into.
Now regarding margins after listening to this lesson you should understand…
What are regulations T and U?
Who regulates client margin accounts?
What is the "cheap Stock" Short position rule?
What is the margin account requirements for a regular margin account , and arbritrage account and a day trading account?
What makes you a "Day Trader?
These and other margin related questions are answered in this lesson.
My other podcast is "Sailing in the Mediterranean located at:
http://www,medsailor.com
If you're interested in my sailing instructional audio series here are the links:
Sailing! Learn to Sail: Basic Keelboat Certification Lessons for the ASA 101 Exam
https://gumroad.com/l/Eiig
Sailing! Learn to Sail: Basic Coastal Cruising; Lessons for the ASA 103 Exam
https://gumroad.com/l/PvOYK
Sailing! Learn To Sail: Bareboat Cruising Certification Lessons for the ASA 104 Exam
https://gumroad.com/l/bwXh
Sailing in the Mediterranean Website
http://www.medsailor.com
Luis Olano one of my happy customers shared this video on Monte Carlo NPV simulation with me I thought I would share it with you:

If you would like to be a guest or have suggestions for future episodes or if you would like Franz to be a speaker at your event please feel free
to contact me.
All podcasts produced and content at www.series7podcast.com are copyrighted. You may use the podcasts for personal use but you may not rebroadcast, or
offer for sale, or use this content in any other manner without written permission.
©2017 Franz Amussen, All Rights Reserved
Two new products have been added recently you may be interested: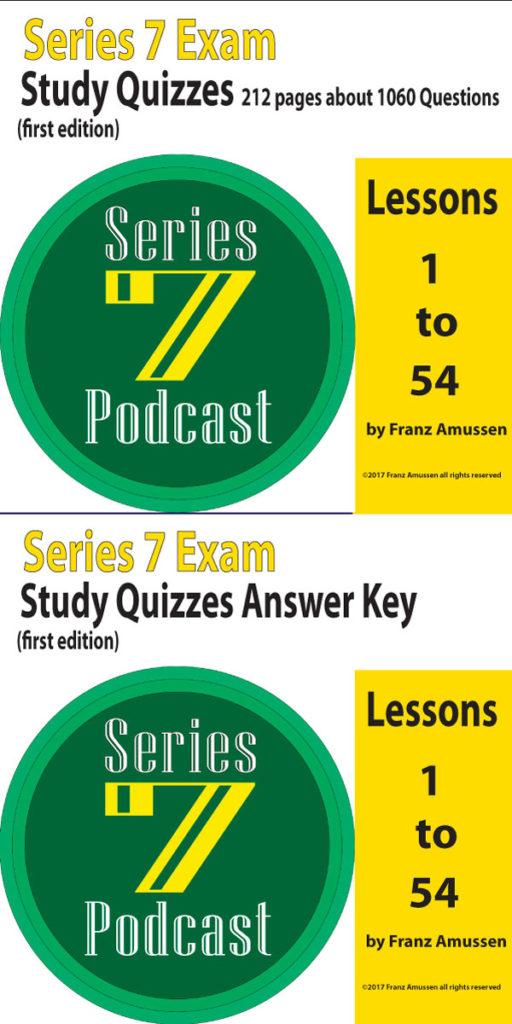 Series 7 Exam
FINRA Series 7 Exam
Study Quizzes
This book of quiz questions is essential for your study. It includes quiz questions and answers for lessons 1 to 54 (first edition) 212 pages for the quiz and 85 pages for the answer key
Approximately 1060 quiz questions and answers or about 20 questions per audio lessons. This quiz question book is designed to help test your comprehension of the audio lesson corresponding with the quiz.
Preparation for the exam should include finding out where you need additional work in this quiz book is designed to help you determine that.
and:

This is a bundle of our two most popular lesson series:
Series 7 Study Guide (Audio Lessons For The FINRA Series 7 Exam) 2nd Edition
(58 lessons Album Total Length: 25 hours 17 minutes 26 Seconds)
and
Series 63 Audio Study Lessons
(9 Audio Lessons 3 hours 38 Min)
Price $99.98 Save $20 if purchased separately