Series 7 Exam Audio Lessons
Series 7 Audio Study Guide
Here is what my customers say about the the audio lessons
Sample Audio Lessons can be found here.
_____________________________________________________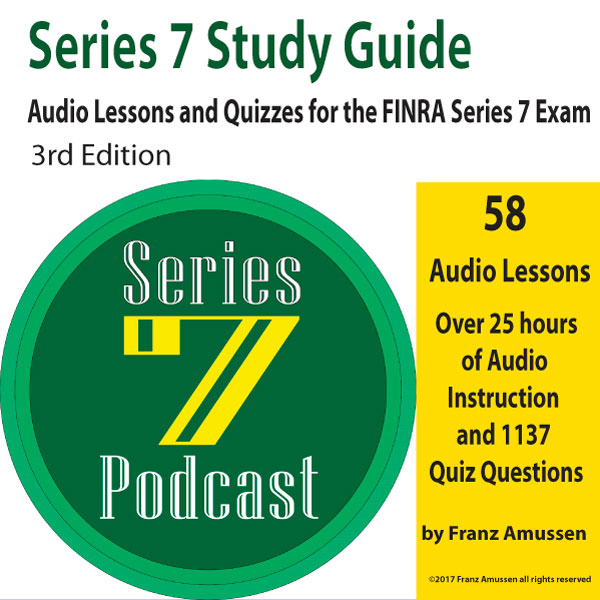 Series 7 Study Guide Audio Lessons and Quizzes for the FINRA Series 7 Exam 3rd Edition
Album Total Length: 25 hours 17 minutes 26 Seconds
This bundle include the full 58 lesson audio course and 1137 Quiz questions.
When you purchase this bundle you will be taken to download area in Gumroad where the audio files are found.
Also you will get the first email for the quiz for lesson 1 click the link to take the quiz and then you will get the next email with the next quiz link. Each time you click the quiz link a new email with the link to the next quiz is sent.
All the Quizzes are taken online and you will need a internet connection to take the quizzes.
How to listen to these Gumroad lessons on your mobile device!
When you purchase my products through Gumroad you may use the Gumroad App to listen to the lessons on your device.
Here is a link to the instructions
http://help.gumroad.com/11167-buyer-faq/using-gumroad-library
Each lesson has its own set of quiz questions.
This audio course to help you prepare for taking the FINRA series 7 exam. These audio lessons are broken up into segments each with the goal of teaching you key concepts that you will need to understand to successfully pass the series 7 exam
Series 7 Study Guide 3rd Edition
Table of Contents
Title
Min
Sec
Series 7 Lesson 1, Introduction to the Series 7 Exam
10
45
New Episode
Series 7 Lesson 2, Common Stocks
32
9
Series 7 Lesson 3, Preferred Stocks
22
42
Series 7 Lesson 4, Special Securities
14
17
Series 7 Lesson 5, Fixed Income pt. 1
23
57
Series 7 Lesson 6, Fixed Income pt. 2
27
57
Series 7 Lesson 7, Fixed Income pt. 3
40
31
Series 7 Lesson 8, Municipal Debt
37
54
Series 7 Lesson 9, Money Market
19
16
Series 7 Lesson 10, Credit Default Swaps, Auction Rate Securities, Index Linked Structured Products
27
10
New Episode
Series 7 Lesson 11 Options pt. 1 Puts and Calls
21
55
Series 7 Lesson 12 Options pt. 2 Covered Calls and Married Puts
21
14
Series 7 Lesson 13 Options pt. 3
18
6
Series 7 Lesson 14 Options pt. 4 Straddles
20
37
Series 7 Lesson 15 Options pt. 5 Spreads
29
57
Series 7 Lesson 16, Options pt. 6
23
31
Series 7 Lesson 17, Investment Company Act of 1940
11
54
Series 7 Lesson 18, Open End Mutual Funds
29
12
Series 7 Lesson 19, Closed End Mutual Funds
22
14
Series 7 Lesson 20 Hedge Funds and Exchange Traded Funds
29
20
Series 7 Lesson 21 Unit Investment Trusts
26
54
Series 7 Lesson 22 Annuities
23
23
Series 7 Lesson 23 Securities Act of 1933
26
42
Series 7 Lesson 24 Securities and Exchange Act of 1934
29
49
Series 7 Lesson 25 Sarbanes-Oxley Act, Blue Sky Laws etc.
23
50
Series 7 Lesson 26 FINRA Rules pt 1
30
34
New Episode
Series 7 Lesson 27 FINRA Rules pt 2
28
9
New Episode
Series 7 Lesson 28 Municipal Securities Rule making Board Rules MSRB
39
0
New Episode
Series 7 Lesson 29 Securities Trading Markets part 1
28
15
Series 7 Lesson 30 Securities Trading Markets part 2
22
49
Series 7 Lesson 31 Securities Trading Markets part 3
28
39
Series 7 Lesson 32 Securities Trading Markets part 4
35
29
Series 7 Lesson 33 Securities Trading Markets part 5
18
32
Series 7 Lesson 34 Stock Fundamental Analysis pt. 1, Balance Sheet pt. 1
26
17
Series 7 Lesson 35 Stock Fundamental Analysis pt. 2, Balance Sheet pt. 2
25
26
Series 7 Lesson 36 Stock Fundamental Analysis pt. 3, Balance Sheet pt. 3
36
31
Series 7 Lesson 37 Stock Fundamental Analysis pt 4, Income Statement part 1
32
49
Series 7 Lesson 38 Stock Fundamental Analysis pt 5, Income Statement part 2
30
37
Series 7 Lesson 39 Stock Fundamental Analysis pt 6, Income Statement part 3
28
13
Series 7 Lesson 40 Stock Fundamental Analysis pt 7, Cash Flow Statement pt 1
16
0
Series 7 Lesson 41 Stock Fundamental Analysis pt 8, Cash Flow Statement pt 2
23
22
Series 7 Lesson 42 Stock Fundamental Analysis pt 9, Discounted Cash Flow
14
7
Series 7 Lesson 43 Stock Fundamental Analysis pt 10, Ratio Analysis
14
59
Series 7 Lesson 44 Technical Analysis
18
56
Series 7 Lesson 45 Macro Economic Analysis
39
29
Series 7 Lesson 46 Macro Economic and Portfolio Analysis
34
26
Series 7 Lesson 47 Margins pt.1
25
18
Series 7 Lesson 48 Margins pt.2
7
15
Series 7 Lesson 49 SMA
15
24
Series 7 Lesson 50 Underwriting
39
38
Series 7 Lesson 51 Municipal Bond Underwriting
37
30
Series 7 Lesson 52 Investment Taxation
36
13
Series 7 Lesson 53 REITS
20
37
Series 7 Lesson 54 IRA's
36
41
Series 7 Lesson 55 Keogh Plans
26
56
Series 7 Lesson 56 401K, SEP IRA and Defined Benefit Plans
24
47
Series 7 Lesson 57 Partnerships
31
35
Series 7 Lesson 58 FINRA Rules Review
27
37
Total length 25 Hours 17 Min 26 seconds
For full 58 lesson bundle through Gumroad :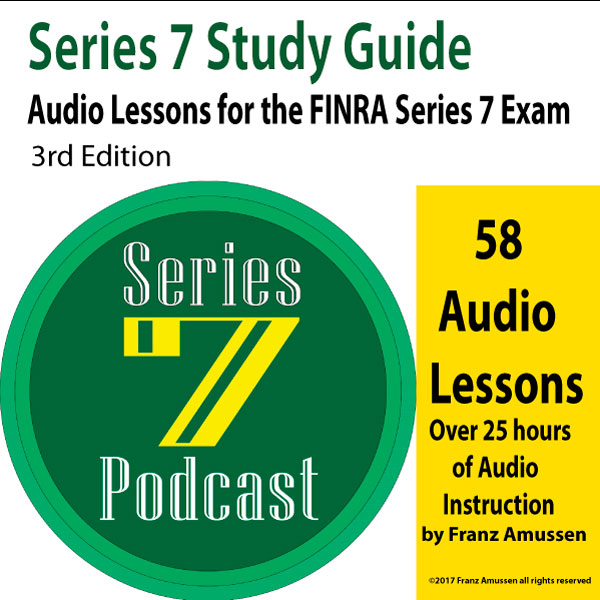 In addition to being able to use the Gumroad App to listen do the lessons on your smart phone this series of lessons also consists of 58 individual lessons in MP3 format mp3 files of lessons 1-58 covering:
Series 7 Study Guide Audio Lessons 1 to 58
Album Total Length: 25 hours 17 minutes 26 Seconds
Series 7 Study Guide 3rd Edition
Table of Contents
Title
Min
Sec
Series 7 Lesson 1, Introduction to the Series 7 Exam
10
45
New Episode
Series 7 Lesson 2, Common Stocks
32
9
Series 7 Lesson 3, Preferred Stocks
22
42
Series 7 Lesson 4, Special Securities
14
17
Series 7 Lesson 5, Fixed Income pt. 1
23
57
Series 7 Lesson 6, Fixed Income pt. 2
27
57
Series 7 Lesson 7, Fixed Income pt. 3
40
31
Series 7 Lesson 8, Municipal Debt
37
54
Series 7 Lesson 9, Money Market
19
16
Series 7 Lesson 10, Credit Default Swaps, Auction Rate Securities, Index Linked Structured Products
27
10
New Episode
Series 7 Lesson 11 Options pt. 1 Puts and Calls
21
55
Series 7 Lesson 12 Options pt. 2 Covered Calls and Married Puts
21
14
Series 7 Lesson 13 Options pt. 3
18
6
Series 7 Lesson 14 Options pt. 4 Straddles
20
37
Series 7 Lesson 15 Options pt. 5 Spreads
29
57
Series 7 Lesson 16, Options pt. 6
23
31
Series 7 Lesson 17, Investment Company Act of 1940
11
54
Series 7 Lesson 18, Open End Mutual Funds
29
12
Series 7 Lesson 19, Closed End Mutual Funds
22
14
Series 7 Lesson 20 Hedge Funds and Exchange Traded Funds
29
20
Series 7 Lesson 21 Unit Investment Trusts
26
54
Series 7 Lesson 22 Annuities
23
23
Series 7 Lesson 23 Securities Act of 1933
26
42
Series 7 Lesson 24 Securities and Exchange Act of 1934
29
49
Series 7 Lesson 25 Sarbanes-Oxley Act, Blue Sky Laws etc.
23
50
Series 7 Lesson 26 FINRA Rules pt 1
30
34
New Episode
Series 7 Lesson 27 FINRA Rules pt 2
28
9
New Episode
Series 7 Lesson 28 Municipal Securities Rule making Board Rules MSRB
39
0
New Episode
Series 7 Lesson 29 Securities Trading Markets part 1
28
15
Series 7 Lesson 30 Securities Trading Markets part 2
22
49
Series 7 Lesson 31 Securities Trading Markets part 3
28
39
Series 7 Lesson 32 Securities Trading Markets part 4
35
29
Series 7 Lesson 33 Securities Trading Markets part 5
18
32
Series 7 Lesson 34 Stock Fundamental Analysis pt. 1, Balance Sheet pt. 1
26
17
Series 7 Lesson 35 Stock Fundamental Analysis pt. 2, Balance Sheet pt. 2
25
26
Series 7 Lesson 36 Stock Fundamental Analysis pt. 3, Balance Sheet pt. 3
36
31
Series 7 Lesson 37 Stock Fundamental Analysis pt 4, Income Statement part 1
32
49
Series 7 Lesson 38 Stock Fundamental Analysis pt 5, Income Statement part 2
30
37
Series 7 Lesson 39 Stock Fundamental Analysis pt 6, Income Statement part 3
28
13
Series 7 Lesson 40 Stock Fundamental Analysis pt 7, Cash Flow Statement pt 1
16
0
Series 7 Lesson 41 Stock Fundamental Analysis pt 8, Cash Flow Statement pt 2
23
22
Series 7 Lesson 42 Stock Fundamental Analysis pt 9, Discounted Cash Flow
14
7
Series 7 Lesson 43 Stock Fundamental Analysis pt 10, Ratio Analysis
14
59
Series 7 Lesson 44 Technical Analysis
18
56
Series 7 Lesson 45 Macro Economic Analysis
39
29
Series 7 Lesson 46 Macro Economic and Portfolio Analysis
34
26
Series 7 Lesson 47 Margins pt.1
25
18
Series 7 Lesson 48 Margins pt.2
7
15
Series 7 Lesson 49 SMA
15
24
Series 7 Lesson 50 Underwriting
39
38
Series 7 Lesson 51 Municipal Bond Underwriting
37
30
Series 7 Lesson 52 Investment Taxation
36
13
Series 7 Lesson 53 REITS
20
37
Series 7 Lesson 54 IRA's
36
41
Series 7 Lesson 55 Keogh Plans
26
56
Series 7 Lesson 56 401K, SEP IRA and Defined Benefit Plans
24
47
Series 7 Lesson 57 Partnerships
31
35
Series 7 Lesson 58 FINRA Rules Review
27
37
Total length 25 Hours 17 Min 26 seconds
————————————————————–
If you still want the older and less expensive first version it is still available:
————————————————————————-
Older First Edition Albums in iTunes (currently Itunes and Amazon do not have the updated third edition information)
Lessons 1-10

Lessons 11-20

Lessons 21-30

Lessons 31-40

Lessons 41-45

Lessons 46-50

First edition older Individual audio lessons are now available through CDbaby at the links below:
Series 7 Study Guide (Audio Lessons 1 to 10 for the FINRA Series 7 Exam)
http://cdbaby.com/cd/series7podcast
Series 7 Study Guide (Audio Lessons 11 to 20 for the FINRA Series 7 Exam)
http://cdbaby.com/cd/series7podcast2
Series 7 Exam (Study Guide Audio Lessons 21 to 30 for the FINRA Series 7 Exam)
http://www.cdbaby.com/cd/series7podcast3
Series 7 Exam (Study Guide Audio Lessons 31 to 40 for the FINRA Series 7 Exam)